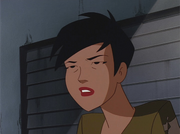 http://i424.photobucket.com/albums/pp327/monitor_ep/comic%20books%20in%20the%20media%20photos/WHOWHOLOGO_zps707acc24.jpg
Impoverished and hungry, Angela wandered the streets of Metropolis. One night, she bumped into Lois Lane, whom she had thought was dead. She was glad Lois was alive, and begged for some money. Commander Graves shoved her off, but in the confusion, Lois could steal her gun. As she ran off, Angela held up Mercy by biting her in the leg.
Section heading
Edit
Write the second section of your page here.
Ad blocker interference detected!
Wikia is a free-to-use site that makes money from advertising. We have a modified experience for viewers using ad blockers

Wikia is not accessible if you've made further modifications. Remove the custom ad blocker rule(s) and the page will load as expected.