DC COMICS: DC Animated Universe Bios (Royal Flush Gang 2)
Comments

0
Share
Ad blocker interference detected!
Wikia is a free-to-use site that makes money from advertising. We have a modified experience for viewers using ad blockers

Wikia is not accessible if you've made further modifications. Remove the custom ad blocker rule(s) and the page will load as expected.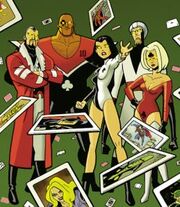 http://i424.photobucket.com/albums/pp327/monitor_ep/comic%20books%20in%20the%20media%20photos/WHOWHOLOGO_zps707acc24.jpg
The members of the first Royal Flush Gang were subjects of United States government metahuman research. The Joker freed them from a government facility and formed the group. Dressed up as playing cards, the Royal Flush Gang did the Joker's bidding of fighting the Justice League. Members:Ace: Vast mind-bending powers which enable her to drive anyone insane with just a single look. Jack: Empowered with superhuman elasticity. King: Shoots superhot plasma bolts, usually focused through his cane. Queen: Able to telekinetically control and reshape any kind of metal to her own will. Ten: Has superhuman strength and is impervious to physical pain
EPISODES:
Edit
Write the second section of your page here.