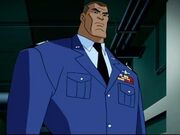 http://i424.photobucket.com/albums/pp327/monitor_ep/comic%20books%20in%20the%20media%20photos/WHOWHOLOGO_zps707acc24.jpg
Colonel Rick Flagg, Jr. is a patriotic officer of the U.S.A, and son of Colonel Flagg. Despite not possessing any special power, Flagg is a talented hand-to-hand combatant, and a gifted tactician with a profound sense of duty and patriotism. Flagg recruited four outlaws into a group named Task Force X, under the directive of Project Cadmus. Their covert mission consisted in infiltrating the Justice League's headquarters to retrieve the Annihilator. While Deadshot and Plastique created a distraction, Flagg and Boomerang rushed to the armory. When they were intercepted by three Leaguers, Flagg took on Vigilante and Shining Knight single-handedly in hand-to-hand combat. Thanks to his dexterity, the mission was a success.Unlike the others, Colonel Flagg, Jr. wasn't blackmailed into going on this suicide mission—he did it out of patriotism.
Section heading
Edit
Write the second section of your page here.
Ad blocker interference detected!
Wikia is a free-to-use site that makes money from advertising. We have a modified experience for viewers using ad blockers

Wikia is not accessible if you've made further modifications. Remove the custom ad blocker rule(s) and the page will load as expected.