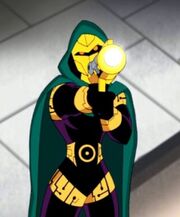 http://i424.photobucket.com/albums/pp327/monitor_ep/comic%20books%20in%20the%20media%20photos/WHOWHOLOGO_zps707acc24.jpg
Doctor Cyber first appeared as a member of Legion of Doom when Lex Luthor joined. She fought and was defeated by Wonder Woman during the attack on Gorilla City. Later, she joined Grodd when he tried to take back his position as leader. Her ultimate fate is unknown, but she was likely blown up with the rest of the ship when Darkseid was resurrected.
Section heading
Edit
Write the second section of your page here.
Ad blocker interference detected!
Wikia is a free-to-use site that makes money from advertising. We have a modified experience for viewers using ad blockers

Wikia is not accessible if you've made further modifications. Remove the custom ad blocker rule(s) and the page will load as expected.