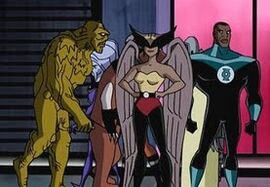 http://i424.photobucket.com/albums/pp327/monitor_ep/comic%20books%20in%20the%20media%20photos/WHOWHOLOGO_zps707acc24.jpg
Although Swamp-Thing never directly appeared in any DC Animated Universe cartoon, an alien bearing a striking resemblance to him had a blink-and-you-missed-it appearance in the background of the Justice League episode " Comfort and Joy".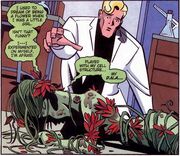 Alec Holland was a brilliant botanist and biochemist. After her escape from Gotham City, Poison Ivy struck up a relationship with him.
MONITOR'S NOTES"
Edit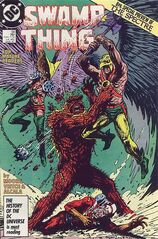 This could actually be Swamp Thing since in his comic book series he did go into outerspace for an adventure.
Ad blocker interference detected!
Wikia is a free-to-use site that makes money from advertising. We have a modified experience for viewers using ad blockers

Wikia is not accessible if you've made further modifications. Remove the custom ad blocker rule(s) and the page will load as expected.