http://i424.photobucket.com/albums/pp327/monitor_ep/comic%20books%20in%20the%20media%20photos/WHOWHOLOGO_zps707acc24.jpg
Shortly after discovering his powers, Adam tried to use them to take revenge on a record producer who had plagiarized his music and gave it to an uprising rapper named Ice Pack as a hit single. While Static was able to stop Rubberband Man, Adam saw Static as more of a nuisance than an actual opponent. Shortly afterward, Adam escaped from prison and tried to follow up with his music career under the alias "Stringer", and even dated Virgil's sister, Sharon for a while. Then Virgil inadvertently blew his cover. Adam turned himself in after stopping bounty hunters Puff and Onyx, in order to finish doing his time and pay his debt to society.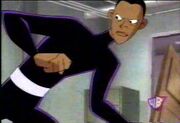 Later on, when Adam was released for good behavior, Rubberband Man became a superhero like Static, somewhat putting Static in his shadow for a bit. This caught Ebon's eye too, and he tried to have his brother join his gang, first by having Adam save him from Static, then by framing Adam for breaking his partners in crime—Talon, Shiv, Aquamaria and Carmen Dillo—out of prison. Hunted by the police, Rubberband Man had no choice but to join Ebon. However, in time, Static found out about Ebon's plan and helped Adam clear his name, with the two heroes ultimately becoming allies. Adam secretly struggled with dyslexia, which he worked hard to overcome in the process of helping Static and Gear solve a particularly difficult case. Whether or not Adam retained his powers after the Bang Baby "cure" was distributed throughout Dakota was never revealed. 
COMIC BOOK ORIGIN:
Edit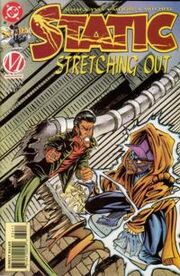 A small time crook caught in the Big Bang event which killed thousands but granted a handful superhuman abilities. A relative unknown until he challenged Static Shock to a battle on national TV where Static embarrassed him and he fled vowing revenge. He would later resurface as a member of a bang baby supervillain team and captured Static's girlfriend Frieda. His team was defeated and he wound up behind bars.
Ad blocker interference detected!
Wikia is a free-to-use site that makes money from advertising. We have a modified experience for viewers using ad blockers

Wikia is not accessible if you've made further modifications. Remove the custom ad blocker rule(s) and the page will load as expected.