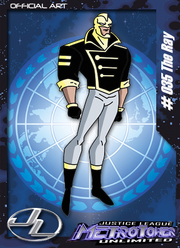 http://i424.photobucket.com/albums/pp327/monitor_ep/comic%20books%20in%20the%20media%20photos/WHOWHOLOGO_zps707acc24.jpg
The Ray was a member of the Justice League after the Thanagarian invasion.
Ray Terrill was told he was hypersensitive to light and exposure to sunlight would kill him. Privately tutored in his window-darkened home, Ray's most earnest wish was for normalcy. The media called him Night Boy. His only friend during his formative years was his neighbor, Jennifer Jurden. At eighteen, by his supposed father's deathbed, Ray learned his life was a lie. He was not allergic to light, nor did he have to live in darkness. Most disturbing of all, he discovered his true father was the 40s war-time super-hero, the Golden Age Ray.
At his "father's" funeral, Ray met his cousin, Hank Terrill, who helped him first face sunlight and his resulting powers. Hank urged Ray to become a super-hero, but Ray refused. It was then that the first Ray reappeared, pressuring his son to take up the heroic role while revealing his true origin and the secret of RONOL. Learning of Thomas' death years later, "Happy" secretly reactivated his governmental status. Employing agents and people close to his son, the elder Terrill concocted an elaborate scheme forcing young Ray into facing responsibility and utilizing his new-found powers. Confronting the Light Entity in a realm only he could reach, young Ray successfully dissuaded its return, saving the Earth.
Ad blocker interference detected!
Wikia is a free-to-use site that makes money from advertising. We have a modified experience for viewers using ad blockers

Wikia is not accessible if you've made further modifications. Remove the custom ad blocker rule(s) and the page will load as expected.