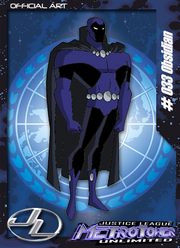 http://i424.photobucket.com/albums/pp327/monitor_ep/comic%20books%20in%20the%20media%20photos/WHOWHOLOGO_zps707acc24.jpg
ANIMATED BIO BY DCAU WIKI
Edit
Obsidian was a member of the Justice League after the Thanagarian invasion.
COMIC BOOK BIO BY DC DATABASE
Edit
Little is known thus far about Obsidian of Earth-2 save that he is a member of the Justice Society of America and that he is searching for two of his missing allies, Superman and Power Girl. The Earth-2 Obsidian bears a strong likeness to his New Earth counterpart Todd Rice, who was originally indigenous to Earth-Two prior to the collapse of the first Multiverse during the Crisis on Infinite Earths event.
Ad blocker interference detected!
Wikia is a free-to-use site that makes money from advertising. We have a modified experience for viewers using ad blockers

Wikia is not accessible if you've made further modifications. Remove the custom ad blocker rule(s) and the page will load as expected.