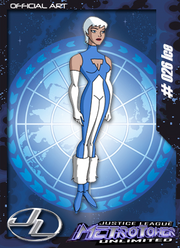 http://i424.photobucket.com/albums/pp327/monitor_ep/comic%20books%20in%20the%20media%20photos/WHOWHOLOGO_zps707acc24.jpg
Ice often appeared in background scenes or crowd shots, and had no lines in the series. Ice helped defend the Watchtower from the attack of Galatea and the Ultimen clones. Ice was also dispatched alongside Doctor Light and Steel as the group that successfully foiled the Legion of Doom's attempt to rob a train full of money. Ice was last seen helping the rest of the League fend off Darkseid's final invasion of Earth.
COMIC BOOK BIO BY COMIC VINE
Edit
Tora is a member of a race of magical ice people that live in the mountains of Norway. Her father, King Olafsdotter is the leader of these people. When an engineer named Rod Schoendienst discovered the ice people, he made a pact with Tora's father that allowed her to leave their kingdom. After Rod introduced Tora to Doctor Mist and the Global Guardians she joined the team as the second Ice maiden. Soon after, she became close friends with Beatriz DaCosta. After the Global Guardians lost their U.N. funding, Tora and Beatriz applied for membership in a depleted Justice League International that was desperate for new members. Changing her name to Ice, Tora fought with the League for years.
Ad blocker interference detected!
Wikia is a free-to-use site that makes money from advertising. We have a modified experience for viewers using ad blockers

Wikia is not accessible if you've made further modifications. Remove the custom ad blocker rule(s) and the page will load as expected.