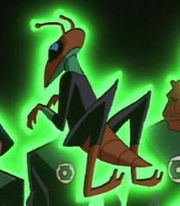 http://i424.photobucket.com/albums/pp327/monitor_ep/comic%20books%20in%20the%20media%20photos/WHOWHOLOGO_zps707acc24.jpg
Xax is a member of the Green Lantern Corps. His image was shown to Superman by the Guardians of the Universe.
Xax of Xaos was a grasshopper-like alien from a planet ruled by insects. He became one of Hal Jordan's good friends in the Green Lantern Corps. He was slain during a battle on the moon of Qward during the struggle against the Anti-Monitor. .
Ad blocker interference detected!
Wikia is a free-to-use site that makes money from advertising. We have a modified experience for viewers using ad blockers

Wikia is not accessible if you've made further modifications. Remove the custom ad blocker rule(s) and the page will load as expected.