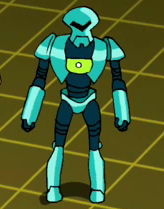 http://i424.photobucket.com/albums/pp327/monitor_ep/comic%20books%20in%20the%20media%20photos/WHOWHOLOGO_zps707acc24.jpg
Stel was a robot and a member of the Green Lantern Corps. He participated in the Corps' defense of Oa and their pursit of AMAZO to Earth.
Stel is a sentient mechanical being from the planet Grenda, a world populated by robotic beings capable of self awareness and emotion. He is a highly respected veteran of the Corps, having first began his service many years ago under the training of the greatest Lantern of that era, the future renegade Sinestro.
Following the completion of boot camp, Stel was assigned to protect Space Sector 3009, a duty which he maintains to this day. Recently, Stel was handpicked by Kilowog to replace the legendary Lantern as the Corps principle Drill Instructor. Stel accepted this position, but made it clear that he would relinquish the role as soon as Kilowog felt ready to return to duty.
Ad blocker interference detected!
Wikia is a free-to-use site that makes money from advertising. We have a modified experience for viewers using ad blockers

Wikia is not accessible if you've made further modifications. Remove the custom ad blocker rule(s) and the page will load as expected.