http://i424.photobucket.com/albums/pp327/monitor_ep/comic%20books%20in%20the%20media%20photos/WHOWHOLOGO_zps707acc24.jpg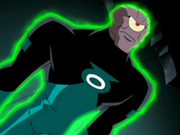 Spol was a member of the Green Lantern Corps. He participated in the Corps' defense of Oa and their pursit of AMAZO to Earth.
Spol tried to stop the Zinthians, and was in turn stopped by Lysandra. The two went to a distant mountain to discuss their mutual problem. He explained to her that Zintha's sun was actually a living being about to give birth. The movement of the planet would cause an imbalance fatal to the living star. Lysandra flew back to the Temple and seized the power battery. The collective will power was difficult to fight, but finally, she was able to tear the lantern free of her people's grasp. Thousands of miles above, Spol re-established Zintha's orbit. The living star gave birth, and Zintha was warmed by the light of two suns. His first mission successful, Spol told Lysandra of the true history of her world. Thar, the Zinthian's god, was actually the living star. Eons ago, after a space war killed most of Lysandra's race, her people swore to avoid future war by never again travelling to the stars. Thar had invited them to live on Zintha. Since Spol's partner, Lysandra, cannot leave her planet because of her religious beliefs; Spol, an athiest, resents his partner's absence and continually requests a new one.
Ad blocker interference detected!
Wikia is a free-to-use site that makes money from advertising. We have a modified experience for viewers using ad blockers

Wikia is not accessible if you've made further modifications. Remove the custom ad blocker rule(s) and the page will load as expected.