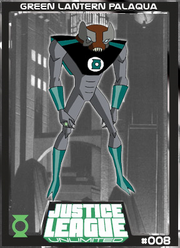 http://i424.photobucket.com/albums/pp327/monitor_ep/comic%20books%20in%20the%20media%20photos/WHOWHOLOGO_zps707acc24.jpg
Palaqua was an insectoid member of the Green Lantern Corps. He participated in the Corps' defense of Oa and their pursit of AMAZO to Earth.
Palaqua was part of a force sent to stop the Mad God of Sector 3600 and was believed killed in the confrontation. Recently he returned, along with five other Lanterns thought killed by the Mad God, and the six have told only the Guardians what happened to them.
Ad blocker interference detected!
Wikia is a free-to-use site that makes money from advertising. We have a modified experience for viewers using ad blockers

Wikia is not accessible if you've made further modifications. Remove the custom ad blocker rule(s) and the page will load as expected.