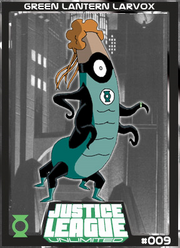 http://i424.photobucket.com/albums/pp327/monitor_ep/comic%20books%20in%20the%20media%20photos/WHOWHOLOGO_zps707acc24.jpg
Larvox was a senior Green Lantern. He was present at John Stewart's trial at Ajuris-5, and was a member of the detachment of Lanterns sent to Superman's funeral.
A member of the Green Lantern Corps, Larvox is an asexual being that comes from a planet where all beings are part of the whole and there are no individuals. Larvox cannot speak and must use its ring to communicate.
Ad blocker interference detected!
Wikia is a free-to-use site that makes money from advertising. We have a modified experience for viewers using ad blockers

Wikia is not accessible if you've made further modifications. Remove the custom ad blocker rule(s) and the page will load as expected.