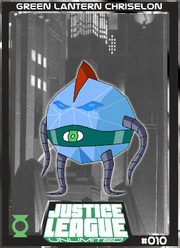 http://i424.photobucket.com/albums/pp327/monitor_ep/comic%20books%20in%20the%20media%20photos/WHOWHOLOGO_zps707acc24.jpg
Chaselon was a member of the Green Lantern Corps. He participated in the Corps' pursuit of AMAZO to Earth.
Chaselon is a living crystal, possessing thirteen senses and requiring robotic parts to act as limbs - something he did not need on his home planet.
Chaselon, the legendary Green and Alpha LanternChaselon was thought to have been shattered by the Parallax-possessed Hal Jordan, but he was discovered alongside the " Lost Lanterns" on the Manhunter homeworld of Biot.
After the Sinestro Corps member Bedovian killed his sector partner, fellow Barriite Diamalon, Chaselon delivered the news to her family. Her parents made him swear an oath that he would find Bedovian and take vengeance. Chaselon agreed.
Chaselon served during the Sinestro Corps War and was one of the six Green Lanterns given the opportunity to join the Alpha Lantern Corps. As an Alpha Lantern, Chaselon took part in the trial against Laira of Jayd and the false arrest of Hal Jordan.
Ad blocker interference detected!
Wikia is a free-to-use site that makes money from advertising. We have a modified experience for viewers using ad blockers

Wikia is not accessible if you've made further modifications. Remove the custom ad blocker rule(s) and the page will load as expected.