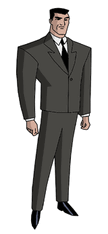 http://i424.photobucket.com/albums/pp327/monitor_ep/comic%20books%20in%20the%20media%20photos/WHOWHOLOGO_zps707acc24.jpg
Batman described Lord as "a walking ego who would do anything for a buck and some free publicity". The Ultimen As the manager of the Ultimen, Lord got them licensing and endorsement deals. He claimed that the money he gained from the Ultimen went back to the team in order to fund overhead and basic necessities.Lord was not only a manager for the Ultimen but also their caretaker employed by Project Cadmus. He genuinely cared for the Ultimen, making him a sort of surrogate father. He tried to bargain with Amanda Waller and then risked his life to try and bring them back to Cadmus alive. When the Ultimen were defeated by the Justice League, Lord assured them that their last days would be comfortable.
EPISODES:
Edit
JLU: Ultimatum 
Ad blocker interference detected!
Wikia is a free-to-use site that makes money from advertising. We have a modified experience for viewers using ad blockers

Wikia is not accessible if you've made further modifications. Remove the custom ad blocker rule(s) and the page will load as expected.