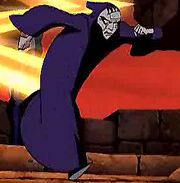 http://i424.photobucket.com/albums/pp327/monitor_ep/comic%20books%20in%20the%20media%20photos/WHOWHOLOGO_zps707acc24.jpg
Probably Darkseid's most obsequious follower, Desaad made a pretense of loyalty, but often engaged in private schemes to satisfy his own taste for destruction and inflicting pain.When Darkseid refused to allow Kalibak to try to destroy Superman, Desaad encouraged him to go to Earth anyway, reasoning that if Kalibak succeeded, he would finally win his father's approval. Probably Desaad took as much delight in the pain Kalibak was inviting on himself by disobeying his father as in whatever destruction Kalibak would cause.[1] After an invasion force led by General Steppenwolf was destroyed by New Genesis, Apokolips's military was severely weakened. Less obsequious now, Desaad criticized his master for inviting New Genesis's retaliation. As a reminder that no one criticized him, Darkseid used his Omega Beams to incinerate Desaad.
Section heading
Edit
Write the second section of your page here.
Ad blocker interference detected!
Wikia is a free-to-use site that makes money from advertising. We have a modified experience for viewers using ad blockers

Wikia is not accessible if you've made further modifications. Remove the custom ad blocker rule(s) and the page will load as expected.