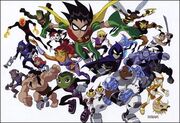 DC COMICS IN THE MEDIA

Teen Titans centers around the five main members of the superhero team: Cyborg, Beast Boy, Starfire, Raven, an additional member, and their leader Robin. They are situated in Titans Tower, a large T-shaped structure featuring living quarters as well as a command centre and variety of training facilities, on an island just offshore from a fictional West Coast city (identified as "Jump City" in the Teen Titans Go! comic series). The team deals with all manner of criminal activity and threats to the city, while dealing with their own struggles with adolescence, their mutual friendships, and their limitations. Slade, their main enemy, is a newly designed version of the DC villain Deathstroke.
TEEN TITANS IN THE MEDIA
Edit
DC ANIMATED UNIVERSE
Edit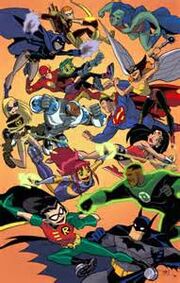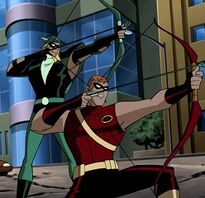 Even though this series was not supposed to crossover in the DCAU, in the end it does.  Bascially this series takes place before the Batman TAS.  It does connect through the JLU episode Patriot Act where Speedy shows up in his Teen Titan outfit.
DC NATION: NEW TEEN TITANS
Edit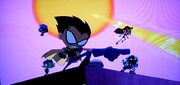 Shorts about the Teen Titans. Follow-up to the Teen Titans television series from 2003–2006, with Scott Menville, Hynden Walch, Greg Cipes, Tara Strong, and Khary Payton reprising their roles of Robin, Starfire, Beast Boy, Raven, and Cyborg. They are drawn more in a super-deformed style, but the basic animation style remains intact.
To view the episode please go to the link (button) below.

http://i424.photobucket.com/albums/pp327/monitor_ep/comic%20books%20in%20the%20media%20photos/DCNATION_zps03083c8f.jpg
DC NATION: TEEN TITANS GO
Edit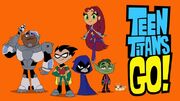 Due to the popularity of the shorts, Cartoon Network announced that Teen Titans will be revived as Teen Titans Go!, a half-hour show that is more comedic and lighthearted than its predecessor, but still feature the original cast and premiered on April 23, 2013.
Ad blocker interference detected!
Wikia is a free-to-use site that makes money from advertising. We have a modified experience for viewers using ad blockers

Wikia is not accessible if you've made further modifications. Remove the custom ad blocker rule(s) and the page will load as expected.