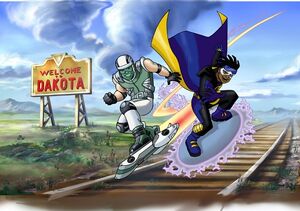 http://i424.photobucket.com/albums/pp327/monitor_ep/comic%20books%20in%20the%20media%20photos/JLU_zpse1f933b1.jpg

Static Shock was an animated series that revived several Milestone Media characters. Originally set in its own universe, it was absorbed into the DCAU after Season Two.
The series proved pivotal in the introduction of many Dakotaverse characters into the Mainstream Continuity; Static's current costume is based on his Season 4 digs rather than any of his costumes from Static.
The series itself delved little into known Dakotaverse; other than Static and Hotstreak, all characters were changed in appearance, name and/or nature, and many new Bang Babies were introduced
STATIC SHOCK TAS
Edit
STATIC SHOCK TAS LINKS
STATIC SHOCK ACTION FIGURES
STATIC SHOCK BIOS
STATIC SHOCK EPISODES
STATIC SHOCK GAMES
Section heading
Edit
Write the second section of your page here.
Ad blocker interference detected!
Wikia is a free-to-use site that makes money from advertising. We have a modified experience for viewers using ad blockers

Wikia is not accessible if you've made further modifications. Remove the custom ad blocker rule(s) and the page will load as expected.