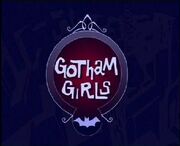 http://i424.photobucket.com/albums/pp327/monitor_ep/comic%20books%20in%20the%20media%20photos/JLU_zpse1f933b1.jpg

Gotham Girls is an American Flash animation series about the females of Gotham City, created and produced jointly by Warner Brothers and Noodle Soup Productions in 2002. Episodes starred Harley Quinn, Poison Ivy, Batgirl, Catwoman and Zatanna in short stories of varying length about the daily lives of the characters (from the DC Comics universe).
It is also the name of a related comic book series
GOTHAM GIRLS
Edit
Section heading
Edit
Write the second section of your page here.
Ad blocker interference detected!
Wikia is a free-to-use site that makes money from advertising. We have a modified experience for viewers using ad blockers

Wikia is not accessible if you've made further modifications. Remove the custom ad blocker rule(s) and the page will load as expected.