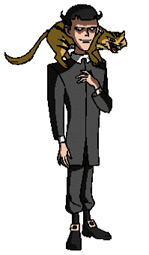 http://i424.photobucket.com/albums/pp327/monitor_ep/comic%20books%20in%20the%20media%20photos/WHOWHOLOGO_zps707acc24.jpg
A very mysterious and evil young man. Klarion The Witch Boy crosses paths with Bruce Wayne when Bruce outbid Klarion at an auction for an ancient branding iron which was supposed to have magical powers. As it turns out, Klarion is a long time adversary of Batman's ally, Etrigan the Demon, AKA Jason Blood. Jason Blood tells Bruce how the little Witch Boy is a very dangerous foe, not to be underestimated. So twisted is Klarion, that he even turned his own parents into mice, presumably for food for his cat, Teekl.
Klarion will stop at nothing to acquire what ever black magic is necessary to control Etrigan The Demon.
EPISODES:
Edit
Write the second section of your page here.
Write
Ad blocker interference detected!
Wikia is a free-to-use site that makes money from advertising. We have a modified experience for viewers using ad blockers

Wikia is not accessible if you've made further modifications. Remove the custom ad blocker rule(s) and the page will load as expected.