Ad blocker interference detected!
Wikia is a free-to-use site that makes money from advertising. We have a modified experience for viewers using ad blockers

Wikia is not accessible if you've made further modifications. Remove the custom ad blocker rule(s) and the page will load as expected.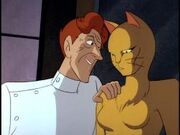 http://i424.photobucket.com/albums/pp327/monitor_ep/comic%20books%20in%20the%20media%20photos/WHOWHOLOGO_zps707acc24.jpg
Dr. Emile Dorian is perhaps on of the most intelligent men in Gotham, perhaps the world. He was a revolutionary in his scientific work and discoveries. He was a prominent Gotham doctor in genetics, until his
gruesome studies forced him to leave Gotham, and inhabit a small island that he bought years before. There he was able to perform his experiments without fear that the authories would stumble onto his work. He has had many confrontations with Batman and the Gotham authorities that has led him back to Gotham many times, but always manages to escape back to his small island to continue his gruesome work
Write the second section of your page here.
Write