Ad blocker interference detected!
Wikia is a free-to-use site that makes money from advertising. We have a modified experience for viewers using ad blockers

Wikia is not accessible if you've made further modifications. Remove the custom ad blocker rule(s) and the page will load as expected.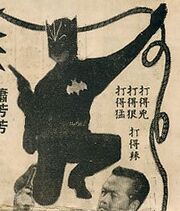 http://i424.photobucket.com/albums/pp327/monitor_ep/comic%20books%20in%20the%20media%20photos/batmanincorpate_zpsee063d0f.jpg
MOVIE: 1967 THE LADY KILLER
Edit
Josephine Siao's "Jane Bond" films: The Lady Killer (1967), also known as Bat Girl. I love Josephine's flamenco six-shooter look and the blood squib graphic!  If you were wondering why Josephine Siao's The Lady Killer was also known as Bat Girl, just check out h

er crime-fighting outfit in this detail from the movie flyer.  BTW, the film's director was Wong Fung, who was screenwriter for the prolific 1950s Wong Fei Hung film series. Besides Bat Girl and the previously mentioned Blue Falcon, he made one other "Jane Bond" film with Josephine, called Goldien Skeleton (1967).