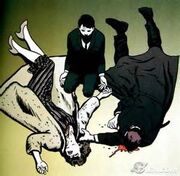 http://i424.photobucket.com/albums/pp327/monitor_ep/comic%20books%20in%20the%20media%20photos/batmanfamilylogo_zps54ddaeb5.jpg
WHAT WE KNOW:
Edit
In 1999, Tim McCanlies wrote a pilot script and series bible for a planned series called Bruce Wayne to be produced by Tollin/Robbins Productions. Taking place in his teenage years, the series would cover his passage into young adulthood, training, and development into becoming Batman. Other characters would include Alfred, Sergeant Jim Gordon, law school student Harvey Dent, and a seductive young Selina Kyle. Planned to run for five to six seasons, it would show how he acquired his martial arts skills, his equipment, and detective abilities he would use in his war on crime. It would also focus on topics such as corruption within the board of Wayne Enterprises (an element which found its way into the movie Batman Begins, to some extent) and police affiliation with the mafia. Bruce Wayne was nearing pre-production when Warner Bros. movie division felt it would conflict with the planned Year One movie and scrapped it. The result was Batman Begins and Tollin/Robbins Productions later went to create Smallville, a series about a teenage Clark Kent
Section heading
Edit
Write the second section of your page here.
Ad blocker interference detected!
Wikia is a free-to-use site that makes money from advertising. We have a modified experience for viewers using ad blockers

Wikia is not accessible if you've made further modifications. Remove the custom ad blocker rule(s) and the page will load as expected.