http://i424.photobucket.com/albums/pp327/monitor_ep/comic%20books%20in%20the%20media%20photos/batmanfamilylogo_zps54ddaeb5.jpg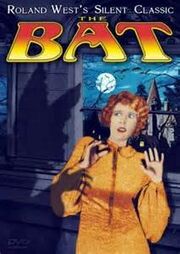 The Bat (1926) is a silent film based on the 1920 hit Broadway The Bat by Mary Roberts Rinehart and Avery Hopwood, directed by Roland West and starring Jack Pickford and Louise Fazenda. The story takes place in an old mansion, where people look for hidden loot while a caped killer (nicknamed "The Bat") murders them one by one.
Director Roland West remade his film four years later as The Bat Whispers (1930), with Chester Morris and Una Merkel. A 1959 remake, The Bat, starred Vincent Price and Agnes Moorehead.
Comic-book creator Bob Kane said in his 1989 autobiography Batman and Me that the villain of the 1930 film The Bat Whispers was an inspiration for his character Batman.
The movie that inspired the creation of Batman. The inhabitants of an old dark house are terrorised by a notorious criminal who appears from the shadows dressed as a bat.
This original silent Roland West production was remade a number of times, including the 1930 Widescreen pioneer "The Bat Whispers", starring Chester Morris, and the 1950s version of "The Bat" with Vincent Price.
Ad blocker interference detected!
Wikia is a free-to-use site that makes money from advertising. We have a modified experience for viewers using ad blockers

Wikia is not accessible if you've made further modifications. Remove the custom ad blocker rule(s) and the page will load as expected.