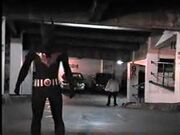 http://i424.photobucket.com/albums/pp327/monitor_ep/comic%20books%20in%20the%20media%20photos/LOGO_zps1094b301.jpg
Years ago director Michael Valentine attempted to make a film based on the animated series BATMAN BEYOND. Due to some difficulties the film was never finished.
Each shot of film was in its testing phase for what was to be shot later.
The films quality isnt great due to it having been filmed on video.
Starring: Michael Valentine/Batman/Bruce Wayne Kellon Innocent/Blight
Ad blocker interference detected!
Wikia is a free-to-use site that makes money from advertising. We have a modified experience for viewers using ad blockers

Wikia is not accessible if you've made further modifications. Remove the custom ad blocker rule(s) and the page will load as expected.