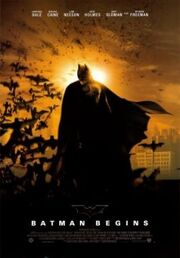 DC COMICS IN THE MEDIA

Batman Begins is a 2005 British-American superhero film based on the fictional DC Comics character Batman, co-written and directed by Christopher Nolan. It stars Christian Bale as Batman along with Michael Caine, Liam Neeson, Katie Holmes, Gary Oldman, and Morgan Freeman. The film reboots the Batman film series, telling the origin story of the character from Bruce Wayne's initial fear of bats, the death of his parents, his journey to become Batman, and his fight against Ra's al Ghul's plot to destroy Gotham City. It draws inspiration from classic comic book storylines such as The Man Who Falls, Batman: Year One, and Batman: The Long Halloween.
A common idea in the comics is that Bruce saw a Zorro film with his parents before they were murdered. Nolan explained that by ignoring that idea – which he stated is not found in Batman's first appearances – it emphasized the importance of bats to Bruce and that becoming a superhero is a wholly original idea on his part. It is for this reason Nolan believes other DC characters do not exist in the universe of his film; otherwise, Wayne's reasons for taking up costumed vigilantism would have been very different.