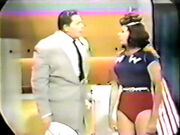 http://i424.photobucket.com/albums/pp327/monitor_ep/comic%20books%20in%20the%20media%20photos/logo_zpse03e1862.jpg
HOLLYWOOD PALACE PT II
Edit
The Dragon Lady is trying to figure out who Superman really is, so she keeps goingto Clark Kent to tell him about crimes.  Clark changes into Superman, but is to late because Batman has stopped it.
CHARACTERS
Edit
CLARK KENT/SUPERMAN
LITTLE ORPHAN ANNIE
JUNGLE JIM
WONDER WOMAN
BUCK RODGERS
PRINCE VALENT
DRAGON LADY
BATMAN (ADAM WEST)
MONITOR'S NOTES
Edit
This marks the first appearance of The Batman Incorparted.
Ad blocker interference detected!
Wikia is a free-to-use site that makes money from advertising. We have a modified experience for viewers using ad blockers

Wikia is not accessible if you've made further modifications. Remove the custom ad blocker rule(s) and the page will load as expected.