http://i424.photobucket.com/albums/pp327/monitor_ep/comic%20books%20in%20the%20media%20photos/logo_zpse03e1862.jpg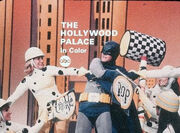 HOLLYWOOD PALACE
Edit
Adam West as Batman on Hollywood Palace with Martha Raye and Milton Berle
HOLLYWOOD PALACE: Batman is Minding His Business
Edit
HOLLYWOOD PALACE
Edit
Originally aired Oct 8, 1966.  This program features:
- Adam West sings "The Orange Colored Sky" & "The Summer Wind"
- Ray Charles with the Rayettes: "Crying Time", "Tell the World About You" & "Alexander's Ragtime Band."
- Roy Rogers and Dale Evans
- Joey Heatherton (singer-dancer): "By Myself"
- George Carlin (comedian): does a monologue about the American Indian
- Fred Roby (ventriloquist)
- Danny Sailor (high-pole performer)
- Landon's Midgets (slapstick comedians)
Adam West:
Edit
Wr
Adam West sings: THE ORANGE COLORED SKY
Edit
Ad blocker interference detected!
Wikia is a free-to-use site that makes money from advertising. We have a modified experience for viewers using ad blockers

Wikia is not accessible if you've made further modifications. Remove the custom ad blocker rule(s) and the page will load as expected.