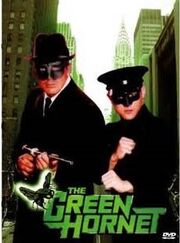 http://i424.photobucket.com/albums/pp327/monitor_ep/comic%20books%20in%20the%20media%20photos/logo_zpse03e1862.jpg
The Green Hornet is a television series on the ABC US television network that aired for the 1966–1967 TV season starring Van Williams as the Green Hornet/Britt Reid and Bruce Lee as Kato.
OVERALL PLOT
Edit
The Green Hornet followed the adventures of playboy-media mogul Britt Reid, the owner and publisher of the Daily Sentinel. As the masked vigilante Green Hornet, Britt fights crime with the assistance of his martial-artist partner Kato, Britt's valet, and his weapons-enhanced car the Black Beauty with license plate V-194. On police records, the Green Hornet is a wanted criminal, but in reality, the Green Hornet pretends to be a criminal in order to infiltrate and battle the criminal gangs, leaving them and the incriminating evidence for the police's arrival. Britt's dual identity is known only to his secretary at the Sentinel, Lenore "Casey" Case and the District Attorney Frank P. Scanlon.
The single-season series premiered September 9, 1966, and ran through March 17, 1967, lasting 26 episodes; ABC repeated the series after its cancellation by the network, until July 14, 1967, when The Green Hornet had its last broadcast on network television.
EPISODES:
Edit
Ad blocker interference detected!
Wikia is a free-to-use site that makes money from advertising. We have a modified experience for viewers using ad blockers

Wikia is not accessible if you've made further modifications. Remove the custom ad blocker rule(s) and the page will load as expected.