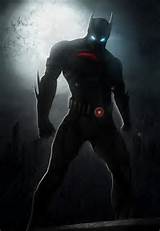 http://i424.photobucket.com/albums/pp327/monitor_ep/LOGO_zps750629f3.jpg
Bruce Timm on the unproduced Batman Beyond Live Action film:
Edit
Among the live-action films proposed between the critical failure of Batman & Robin and the reboot of the Batman franchise was a live-action Batman Beyond feature, to be written by Paul Dini. In August 2000, Warner Bros. announced that it was developing a live action film adaptation of the TV series Batman Beyond with Boaz Yakin attached to co-write and direct. The TV series' creators, Paul Dini and Alan Burnett, were hired to write a screenplay for the feature film, with author Neal Stephenson consulting the duo.By July 2001, a first draft was turned in to the studio, and the writers were waiting to see if a rewrite would be needed. The studio, also exploring other takes of Batman in development, eventually placed Batman Beyond on hold in August 2001.
Section heading
Edit
Write the second section of your page here.
Ad blocker interference detected!
Wikia is a free-to-use site that makes money from advertising. We have a modified experience for viewers using ad blockers

Wikia is not accessible if you've made further modifications. Remove the custom ad blocker rule(s) and the page will load as expected.