Welcome to the Comic books in the media Wiki
Edit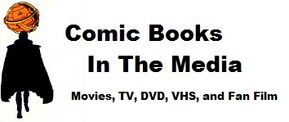 This wiki site will cover comic book character that have gone from the pages of comics to the media such as:
TABLE OF CONTENTS
Edit
To help out with the comic books in the media please feel free to use the guide below.
POLITICS & COMIC BOOKS: Super President
Edit
The American President James Norcross (voiced by Paul Frees) is given superpowers as the result of a cosmic storm. The President now has increased strength and the Metamorpho-like ability to change his molecular composition at will to any form required (like granite, steel, ozone, water and even electricity). A hidden panel in the Oval Office allows him access to his secret base, a hidden cave beneath the "Presidential Mansion" (a somewhat modified White House). Super President travels either by using a futuristic automobile/aircraft/submarine called the Omnicar, or by using jets built into his belt. Despite the fact that the character's name is "Super President," for some reason only Norcross' advisor Jerry Sayles knows that the leader of the Free World is also a red and white-costumed superhero in his off-hours.
COMIC BOOK TV SHOWS 2016:
Edit
COMIC BOOK CARTOON 2014:
Edit
Latest activity
Edit
Photos and videos are a great way to add visuals to your wiki. Find videos about your topic by exploring Wikia's Video Library.