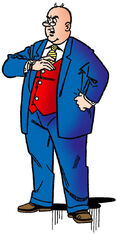 Waldo Weatherbee is the Principal of Riverdale High School, nicknamed "the Bee" by his students. He is reportedly "pompous and short-tempered" though generally respected by school faculty and students alike. Waldo suffers the consequences of various mishaps caused by his students, particularly Archie Andrews, Jughead Jones and Reggie Mantle. His ire is often justly aimed at the trio but seldom offers any punishment other than detention.
(1)
Pages in category "Mr. Weatherbee"
Ad blocker interference detected!
Wikia is a free-to-use site that makes money from advertising. We have a modified experience for viewers using ad blockers

Wikia is not accessible if you've made further modifications. Remove the custom ad blocker rule(s) and the page will load as expected.